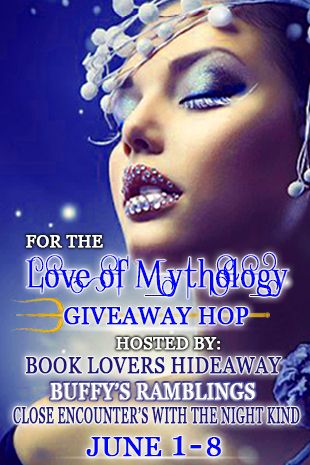 What about Mythology is so intriguing? Maybe it's that mystery, the suspense, that incredibly imaginative Iliad your ninth grade English teacher forced you to read. You thought you'd hate it, but those descriptions stuck with you, right?
There are all types of mythology (Greek, Roman, Egyptian and so on), but my personal favorite has always been Greek. The idea that so many gods look down upon us and are responsible for every life lesson we have learned (war, famine, love, hate, etc.) is such a fascinating concept to me, and I absorb it like a sponge.
My favorite books centered on this very idea is Sherrilyn Kenyon's Dark Hunter novels. They are a brilliant mesh of modern and mythology and I absolutely adore each and every one of them. As for my favorite god, well, that would probably be Persephone...Or rather, Kenyon's version of the cunning seductress I love to hate. If you've read her books, you know what I mean.
For my part of the hop, I am giving away one copy each of my Greek inspired Brotherhood series,
Darkness & Lies
and
A Warrior's Betrayal
, plus bookmarks and signed bookplates to one lucky winner!
*Please note that due to shipping costs, this giveaway is NOT international. Sorry!*
a Rafflecopter giveaway
Follow the link for more stops on the tour!
http://closeencounterswiththenightkind.blogspot.com/